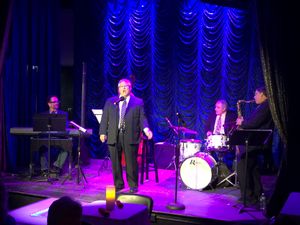 Joe Williams
"Jim's got the gift! He really swings!"
Diane Schuur
"Wonderful choices, beautifully sung!"
Rex Reed
 "Jim's singing is exquisite! I want to hear more!"
Fred Bouchard, Downbeat Magazine
"A genial baritone with his own smooth sound, relaxed feel,
fine timing, and a tasteful repertoire, and honest to God male jazz singer."
Ron Della Chiesa
 "Jim Porcella sings with feeling, warmth, and emotion…
enhanced by very special delivery of lyrics.
Thanks, Jim, for keeping the American Songbook alive."
Rebecca Parris
"Jim lends real warmth to a ballad, takes a lyric seriously and sparks freshness into his upbeat repertoire.
His scat singing is enviable and his delivery is right on the mark. A real please to listen to."
Bob Blumenthal
"We now know that Jim Porcella can sing with great feeling his Two For the Road is close to the definitive version."